Active transport involves walking, cycling and other physical modes of travel to work, school, parks, cafes, shops, a friend's house or other destinations.
Everyone wants to get where they need to in a safe and timely way. As Warrnambool grows and gets busier, the challenge will be how to do this.
Council has worked with the community to support active transport in Warrnambool.
W2040- Warrnambool's Community Plan
You can be part of the local action to achieve the goals for Warrnambool in 2040 by making some small changes in your life, home, school, workplace, or club which will help see the community's aspirations for our city achieved.
Active transport could be your #smallaction which can make #bigdifference by pledging to Walk or cycle for transport at least once a week #beActive3280
Healthy Moves
Healthy Moves is improving children's health - step by step. It is a community-wide approach to enhancing the social, economic and environmental health and well being of children that attend Warrnambool schools.
In response, this also has a positive impact on the parents, teachers and support staff at Warrnambool schools and, as such, the wider Warrnambool community. It is a program unique to Victoria that has been enthusiastically embraced by the people of Warrnambool. It is fun, educational and successful - up to 70 per cent of the city's primary school population taking part in its specific activities. Check out each schools page on the toolbar, each school has Ambassadors.
http://www.healthymoves.net.au/
Keeping Moving in the Inner North
The Botanic Precinct Local Area Traffic Management plan is a process where Council works with people who live, work and go to school in a precinct to create great streets.
These streets consider and balance the needs of people walking, cycling, driving and taking the bus. Streets which are designed to benefit everyone; older and younger people, people with limited mobility. Getting this right creates opportunities for social interaction, enabling the wider community to foster independence, social connection, safety and comfort for all.
Two way street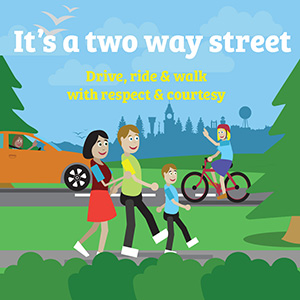 Whether it's going to work, school, shops or a walk around the block, streets are part of our everyday lives.
Because we all use streets, we all play a part in creating the great streets that everyone wants to see. The way we do this is by walking, driving and riding with respect and courtesy - when we do this, we're helping to make sure everyone gets to where they're going safely.
People who ride bikes
Our VISION: We aspire to a network of cycling routes connecting people to all places in Warrnambool and surrounds. Cycling will be a fun, healthy and safe way for people of all ages and abilities to travel and recreate.

Regardless of your age, ability or level of fitness, riding a bike can be fun and freeing.
People who ride bikes with children
Children need to develop skills to become independent road users. Children under 9 years cannot concentrate, see as far and judge distances as well as older children so road safety needs to taught and practiced with an adult. Bike Ed is a great way for the students to learn how to be safer cyclists
Stop on the footpath
Look both ways, into the distance for cars
Listen for cars, trucks, bikes
Think can I make it safely across?
Children aged 12 and under
Children aged 12 and under are permitted to cycle on the footpath, any adult accompanying them is also permitted to cycle on the footpath. Before going on a ride ensure that your child can:
Steer the bike.
Use the brakes.
Understand simple instructions like "STOP".
Understand that they must obey your instructions at all times.
Remember
Cycle behind your children- don't be afraid to use your voice.
Before cycling instruct the children to stop on the path before any intersection.
Instruct the children not to approach an intersection without an adult.
Show them how to use the STOP, LOOK, LISTEN, THINK technique before crossing the road.
Instruct the children to listen and STOP for cars coming out of driveways.
Older children
Cycling skills vary from child to child. Once they have mastered cycling on the path and understand and have the skills to obey the road rules you may feel confident that they can cycle unassisted on the paths or you may teach them how to cycle on road in quiet streets.
Remember
The children should use the STOP, LOOK, LISTEN, THINK technique before crossing intersections.
Go through the cycling tips on this page before they set out.
Check out your school and see if Bike Ed training is available. You might like to become an assistant.
Shared paths
Shared paths are for people of all ages and paces including people who walk, run, children on scooters or roller-skates, families with prams and dog walkers. They are also used by people who cycle either recreationally or commuting, as well as families visiting parks. When using our shared paths, be considerate of other path users. Follow this etiquette to ensure our shared paths are safe and enjoyable for everyone to use.
Cycling
Cyclists must give way to pedestrians. Pedestrians include people using wheelchairs, mobility scooters and wheeled recreational devices.
Ride at an appropriate speed - stay at running pace or below.
Keep to the left unless overtaking.
Move off the path when stopped.
Ring your bell or say passing and overtake slowly
Walking
Keep to the left.
Listen out for other path users.
Move to the left when you hear a cyclist's bell or hear a cyclist calling out 'passing'.
Monitor children and control your dog.
Avoid blocking paths, move off the path when stopped.
Be mindful of other users when walking in a group.
Check for cyclists when crossing the path.
No matter how we are travelling along our Shared Path network always be:
alert
predictable
courteous
visible.
Connecting to other people who ride bikes
Warrnambool has some great opportunities for to connect with your community. Go to
EVENTS - www.whatson.warrnambool.vic.gov.au/
OR
CLUBS AND GROUPS Warrnambool Connect
Warrnambool Cycling Club: Weekly club races Port Fairy and Wangoom
South West Series Races across the region ect.
Hell of South (Rail Trail Race)
Glenn Cooke (100km race Wangoom)
Melbourne to Warrnambool / Port Campbell to Warrnambool
Archie Graham Social Cyclists- Monday and Friday
Rail Trail rides- Weekly
Port Fairy- Thursdays
Koroit- Fridays
If you are a person who rides a bike and you think we are missing a club or opportunity to connect with other people who ride bikes in Warrnambool please let us know by emailing the link to the webpage or facebook page to nwood@warrnambool.vic.gov.au.