Everyone wants to get where they need to in a safe and timely way.
As Warrnambool grows and gets busier, the challenge will be how to do this.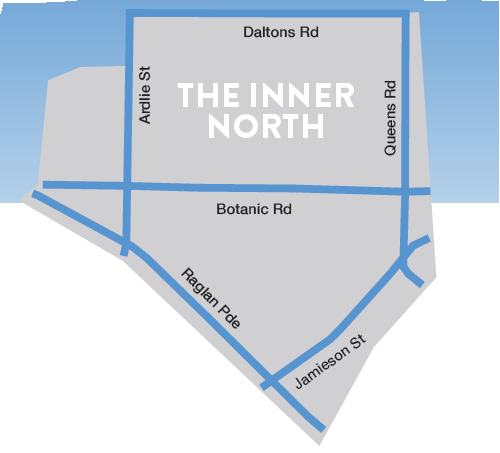 What do we want?
Great Streets- which consider and balance the needs of people walking, cycling, driving and taking the bus. Streets which are designed to benefit everyone; older and younger people, people with limited mobility. Getting this right creates opportunities for social interaction, enabling the wider community to foster independence, social connection, safety and comfort for all.
What challenges are we facing?
Space is limited- in our streets and for parking
More people want to go the same places at the same time
People are time poor
Our reliance on cars
Some people don't feel safe walking or cycling
Access to public transport
Feedback on the 10 year plan for the future of travel in this precinct
The Botanic Local Area Traffic Management Plan
Developed in collaboration with the community
To be ready to take advantages of external funding opportunities
To find solutions which are cost effective
Create safer streets for all road users; especially those walking and cycling
This report provides the background and process which was undertaken by Council and the Community to develop the Botanic Precinct Local Area Traffic Management Plan.
The following is a summary of the feedback for the Botanic Precinct- Local Area Traffic Management Plan Report.
Who did we speak with?
Information session
Emmanuel College- meeting with principal, presented to Emmanuel Executive
Warrnambool PS- presentation to School Council, information distributed to focus group
St Josephs PS- meeting with Principal, 4 pop up session for parents- 5 comments
Aquazone- meeting with Manager
Warrnambool Botanic Gardens- Information distributed digitally
Residents 2 Pop-Up sessions Botanic Gardens- 32 residents attended
St John of God Hospital- Information distributed digitally
Buslines- Information distributed digitally
Discussion with Emergency Services- Ambulance and Fire
Discussion with Local Laws
Where to next?
Thanks to everyone who gave us feedback on the Botanic LATM plan. The results can be downloaded here.
Here is the Action Plan for 2023
Botanic Precinct LATM Action Plan Report Card Update
Email nwood@warrnambool.vic.gov.au if you would like to be kept up to date on this plan.