Be active in the Community. Find out about environmental community groups, citizen science and education opportunities and get involved in programs including Gardens for Wildlife.
Gardens for Wildlife
Bringing the Wildlife to Your Back Door

The pilot program has indicated a demand for information. The Bringing the Wildlife to Your Back Door booklet is being provided to help you get started on your gardening for wildlife journey. The booklet is a great resource that provides information, considerations, tips and suggested plants to encourage wildlife to visit your garden.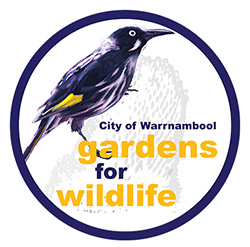 An exciting  free program has been developed to help Warrnambool residents encourage wildlife into their garden.
Only a small portion of the indigenous vegetation that used to cover the Warrnambool area remains, generally in small isolated patches which makes it difficult for native wildlife to survive, thrive and move between patches.
You can improve the habitat for wildlife in your garden by creating a wildlife friendly garden that provides shelter, food and water. Your garden can contribute to the survival of our local wildlife and provide a stepping stone for them to move through the area.
What makes a garden wildlife friendly?
A wildlife friendly garden includes some or all of the following:
A mature tree, native to the area
A mixture of plant layers such as trees, shrubs and groundcovers
Dense shrubs for birds to shelter in
Nectar plants for honeyeaters
Cat-safe bird bath
Warm sheltered area for lizards
Butterfly hosting plants
Frog friendly pond or bog
Patch of natural mulch for beetles and worms
Gardens for Wildlife Pilot Program
During the pilot program, 10 gardens will be visited by trained volunteer garden advisors. The volunteer garden advisors will provide helpful, practical advice, to assist participants to make their garden more wildlife friendly. 
The pilot program was launched on May 18 2021 and is currently fully subscribed. 
Once completed, the pilot program will be assessed and this page will be updated with future happenings.
Gardens for Wildlife Newsletter
Download copies of the Gardens for Wildlife Newsletter below.
Register to join the Gardens for Wildlife Newsletter Mailing List
Plant Selector Tool
If you're looking to include more Australian plants in your garden and need some tips on choosing the right plants, you've come to the right place.
The online plant selector tool provided by Warrnambool City Council allows you to make an informed plant choice based on the size of your garden, how much gardening you like to do and how much water a plant needs to thrive.
Green Futures Now!
Green Futures Now! is a leadership program for people aged 12 – 25 to build knowledge and activate participation and solutions to address climate change.
Green Futures Now! involves a series of intensive workshops and activities that support young people with the climate issues facing our region. These activities connect young people with the work that is happening locally to mitigate, adapt and respond to climate change. Participants meet people working a range of fields whose work contributes to the transition toward an environmentally sustainable future. Young people participating in this program lead their own project to address climate change and sustainability issues they identify.
Citizen Science
Citizen Science connects local volunteers with scientists and other organisations to increase scientific knowledge and data. It is a great way for anyone to help make a meaningful contribution and to get outside in nature to collect and share biodiversity data!  Here are just some of the Citizen Science Projects you can get involved with in the Warrnambool area.
To find even more projects you can get involved in visit Australian Citizen Science Association
| | | | |
| --- | --- | --- | --- |
| EstuaryWatch Victoria | Supported by Glenelg Hopkins Catchment Management Authority (CMA), Corangamite CMA, Melbourne Water and West Gippsland CMA. | A local citizen science project for monitoring estuary health with volunteer data used to inform better estuary management. Volunteers participate in three types of monitoring; estuary mouth condition monitoring, physical and chemical monitoring and event based monitoring by taking photos at observation points, recording data and measuring different parameters. | http://www.estuarywatch.org.au/ |
| Frog ID | Australian Museum | By recording a frog call with the FrogID app you can discover which frogs live around you and help count Australia's frogs! | https://biocollect.ala.org.au/acsa/project/index/c6e041f5-be25-4d2b-8f7… |
| KoalaMap | Australian Koala Foundation | KoalaMap is a citizen science based project which aims to record information about koala sightings and habitats to inform the protection and enhancement of critical koala habitats. Visit the website and add your koala sightings to the database. | https://biocollect.ala.org.au/acsa/project/index/a36c1fa9-4345-42ac-883… |
| Redmap | University of Tasmania- Institute of Marine and Antarctic Studies | Redmap is a citizen science project that invites members of the community to spot marine species that are outside of their usual range (or distribution) at various points around Australia. In collecting this information Redmap is generating a database of 'out of range' sightings to assess which species are shifting in their ranges and whether these shifts are consistent with warming waters. Simply submit your sightings of marine species that are not using found at your local beach, fishing, diving or swimming spot. | https://biocollect.ala.org.au/acsa/project/index/4cd54090-5565-4b50-b18… |
| Report a Platypus (or Water Rat) Project | Australian Platypus Conservancy (APC) | Platypus and water rats (Rakali) are challenging animals to study in the wild, however, if you see either of these animals in the wild (alive or dead) you have information that is vital to understanding the status, distribution and conservation needs of these species. Report the details of your sightings to the APC via a simple online form. Your sightings will also be shared with the national repository of wildlife records (Atlas of Living Australia) to assist knowledge of where these species occur and their overall abundance. | https://platypus.asn.au/report-a-sighting/ |
| ALA species sightings and OzAtlas | Atlas of Living Australia | Add your native wildlife and plant images and sightings to the Atlas of Living Australia where they can be found and used by scientists in biodiversity research and management. | https://biocollect.ala.org.au/acsa/project/index/f813c99c-1a1d-4096-8ee… |
| Atlas & Birdata | Birdlife Australia | Anyone with an interest in birds can make an important contribution to our knowledge of Australian birds by getting involved in this project. You can contribute through repeat surveys or as part of general atlassing of bird sightings. | https://biocollect.ala.org.au/acsa/project/index/14e40c37-d1c4-4a2b-b13… |
| Backyard Species Discovery with Bush Blitz (Australia) | Parks Australia | Bush Blitz is Australia's largest species discovery program that documents Australia's biodiversity. Your observations (images and sound recordings) of plants, animals and fungi will contribute valuable data to the Atlas of Living Australia. | https://biocollect.ala.org.au/acsa/project/index/d284e1df-c3f8-4e82-96d… |
| Big City Birds | The University of Sydney | The aim of this project is to research the behaviour, movement, reproduction and distribution and habitat use of five local urban bird species, to help understand the traits that have allowed these species to adapt to the challenges and opportunities of city living. You can contribute by reporting sightings of these species in urban areas and their behaviour at the time. | https://biocollect.ala.org.au/acsa/project/index/96161a0c-3fd0-4d04-a44… |
| Butterflies Australia | ANU | Join the quest to learn more about Australia's butterflies, that although are much-loved, haven't received a lot of attention in the past, limiting our knowledge of their populations, ranges etc. Download the free app to upload photos and GPS information about the butterflies in your area. | https://biocollect.ala.org.au/acsa/project/index/8f72c55d-e40f-463e-801… |
| ClimateWatch | Earthwatch Australia | ClimateWatch was developed to understand the effects climate change is having on our earth's natural processes. This project allows every Australian to be involved in recording observations of select plant and animal species to help scientists inform Australia's response to climate change. Register online and choose the mammal, bird, insect, reptile or plant you are interested in and start recording what you see. Try to make watching this species a part of your weekly routine, such as during a regular walk. | https://biocollect.ala.org.au/acsa/project/index/89d30336-32a4-4f38-8d1… |
| GLOBE Observer- Trees and Cloud Observations | NASA and The GLOBE Program | Tree height allows scientists to understand the gain or loss of biomass which can inform calculations of the carbon that trees and forests either take in from or release into the atmosphere. Use an app-based tool to help estimate tree height. The tool will guide you through the observation process. | https://biocollect.ala.org.au/acsa/project/index/e3f81b65-4dfa-4d44-b52… |
|   |   | Cloud observations matched to satellite overpasses are especially helpful in ground true-thing satellite and remote sensing data. Make cloud observations using the GLOBE Observer mobile app and upload your data/images to the databased. | https://biocollect.ala.org.au/acsa/project/index/7b422097-fcf5-44c1-9b3… |
| NOBURN | University of the Sunshine Coast | NOBURN is an exciting citizen science project that is helping us learn more about what is driving bushfires so we can predict these factors. Around the country, NOBURN allows everyone who wants to, to record evidence of possible forest danger. Download the NOBURN app on your smartphone (or use the website) to upload photos and enter information about the forest you are visiting. | https://biocollect.ala.org.au/acsa/project/index/2bb68a24-e744-45d7-9ca… |
| Wild Orchid Watch | University of Adelaide | WOW is a national citizen science project designed to collect, record and share scientific information about Autralian native orchids. Use the WOW web app to take photos of orchids and habitat and record some environmental information. | https://biocollect.ala.org.au/acsa/project/index/813c39c9-2ab7-4e25-9c6… |
ONLINE PROJECTS:
Some citizen science projects are completely online, meaning you can get involved from anywhere at any time. Often, these projects involve looking through a series of images and identifying or counting the contents. Below are some online projects and you can search for more using the Australian Citizen Science Project Finder
Education
There are a variety of biodiversity and environmental education tools available online for use by teachers, students and other groups. We have put together a list of some of the resources that may be useful to get you started:
| | | |
| --- | --- | --- |
| ResourceSmart Schools Biodiversity Module (Sustainability Victoria) | Helps schools to protect and improve their land, the local ecosystem and plant and animal habitats. Includes 3 key areas: Workplace/operational, learning and teaching and whole school engagement. | https://www.sustainability.vic.gov.au/energy-efficiency-and-reducing-em… |
| Victorian National Park Association School Resources | VNPA has great resources for primary and secondary schools including nature-based activities, getting involved in citizen science, VCE resources and how your school can support VNPA. | https://vnpa.org.au/programs/school-resources/ |
| Landcare for schools and students (Landcare Victoria) | Educational resources for teachers and students, aiding school level studies in the environment and agricultural sustainability. | https://www.landcarevic.org.au/resources/landcare-for-schools-and-stude… |
| Plan your learning: Learning in, about and for nature (Parks Victoria) | Parks Victoria has a range of programs aligned with the curriculum for Early Childhood, Primary and Secondary teachers to embed environmental education into the classroom. | https://www.parks.vic.gov.au/get-into-nature/learning-in-nature/plan-yo… |
| Zoos Victoria Digital Programs | Zoos Victoria offer interactive online learning experiences to help students connect, understand and act for wildlife. | https://www.zoo.org.au/education/digital-programs/ |
| Bugwise for Schools (Australian Museum) | Brings the world of invertebrates to students, engaging them in real science in local environments. | https://australian.museum/learn/teachers/learning/bugwise/bugwise-for-s… |
| Glenelg Hopkins CMA Resources | A variety of resources available including newsletters, the Pondcast, frog calls, wetland fact sheets and booklets and water and flows information. | https://www.ghcma.vic.gov.au/get-involved/resources/ |
| Ocean Crusaders Education Program | Ocean Crusaders education people of the issues faced by our oceans. They have developed a program to run in primary schools to teach students about these issues, the creatures in the ocean and how they are affected. | https://oceancrusaders.org/education/ |
Community Groups and Contacts
Glenelg Hopkins Catchment Management Authority
Aims to achieve a healthy and sustainable relationship between the natural environment and the community's use of land and water resources in the Glenelg Hopkins region. Contact us to find out about local projects.
Tel: 5571 2526
Email: ghcma@ghcma.vic.gov.au
Web: www.ghcma.vic.gov.au
Department of Environment, Land, Water and Planning (DEWLP)
DELWP is tasked with creating liveable, inclusive and sustainable communities.
Ph: 5561 9946
Web: www.dewlp.vic.gov.au
Parks Victoria
Parks Victoria manages Victoria's world class network of national, state, regional and metropolitan parks, other conservation reserves, many significant cultural assets and bays and waterways (including the Merri Marine Sanctuary).
Phone: 131 963
Web: www.parkweb.vic.gov.au
Environment Protection Authority Victoria
The mission of the Environment Protection Authority Victoria is to enable the safe, clean and sustainable environment that Victorians seek.
Phone: 1300 372 842
Web: www.epa.vic.gov.au
Recycling Near You
Will provide you with recycling information for the Warrnambool City Council area. Using any of their services can help reduce the amount of waste going to landfill and ensure you place the right thing in the right bin.
Web: www.recyclingnearyou.com.au
Warrnambool Community Garden
The Warrnambool Community Garden is a common ground where all people are welcome to come together to grow, learn, produce and share.
Contact: warrnamboolcommunity@yahoo.com.au
Web: www.wcg3280.org.au/ 
Phone: 0429 928 511
Warrnambool Coastcare Landcare Group
Warrnambool Coastcare Landcare group aims to improve biodiversity by protecting and enhancing the coastal environment through active community partnerships and group participation.

Contact: Bruce Campbell Ph: 0431057741
Email: warrnamboolcoastcarelandcare@gmail.com

Friends of Merri Marine Sanctuary
Friends of Merri Marine Sanctuary aims to protect, promote and develop awareness of the unique environment in the Merri Marine Sanctuary.
Contact: Louise Arthur Ph: 0457 760 083
Email: friendsofmerri@gmail.com
Making a Difference (MAD) for the Merri
MAD for the Merri aims to monitor, restore and improve the health of the Merri catchment.
Contact: Noni Brislin Warrnambool and DIstrict Landcare Network Facilitator
Ph: 5559 4435
Email: mad4themerri@gmail.com
Web: www.landcarevic.org.au/groups/glenelg-hopkins/madftmerri/
Fishcare South West
Fishcare South West promotes responsible and sustainable attitudes and practices amongst recreational anglers and the wider community

Contact: Justin Harzmeyer Phone: 0437004375
Email: fishcaresouthwest@gmail.com
Web: http://www.fishcare.org.au

Friends of Swan Reserve
The Friends of Swan Reserve have developed a native, waterwise garden on Swan Reserve, Raglan Pde, Warrnambool. The group aims to protect and enhance Swan Reserve and ensure it is a beautiful place that can be enjoyed by all.
Contact: Kevin Sparrow
Email: ksparrow93@gmail.com
Australian Plants Society - Warrnambool and District
A group of dedicated people working to preserve Australia's unique native plants both in the wild and by growing them in their gardens.
Contact: Kevin Sparrow
Email:ksparrow93@gmail.com
Warrnambool Field Naturalists Club
Aims to give opportunities to know and enjoy Australia's natural environment.
Contact – Shirley Duffield Email - warrnamboolfnc@gmail.com
Web: http://glenelg-hopkins.landcarevic.net.au/wfnc
Warrnambool Wildlife Rescue
Dedicated to caring, helping and rehabilitating injured and orphaned native wildlife in the South West pocket of Victoria.
Email – warrnamboolwildlife@gmail.com
Emergency hotline number: 1300 094 535
BirdLife Warrnambool
Social birding group in Warrnambool
Contact: Peter Barrand Ph: 5527 1712
Web - www.birdlife.org.au/locations/birdlife-warrnambool
Warrnambool Environmental Action Group
Initiating and participating in practical local environmental projects that create positive change towards a more sustainable Warrnambool. Looking for support to join our growing team.
Contact – Adrian Collet
Ph: 0422278505
Basalt to Bay Landcare Network
A not for profit organisation established in 2008. We work with land managers, industry, representative organisations, and community groups across tenure to improve the extent, connectivity, and productivity benefits of native vegetation in the Warrnambool and Moyne Local Government Areas.
Contact our office Monday to Friday 9am to 3pm : Lisette Mill 0408712713   
Email: Facilitator@basalttobay.org.au
Web: www.basalttobay.org.au