Green Futures Now! is a leadership program for people aged 12 – 25 to build knowledge and activate participation and solutions to address environmental issues.
Green Futures Now! involves a series of intensive workshops and activities that support young people with the climate issues facing our region. These initial workshops connect young people with the work that is happening locally to mitigate, adapt and respond to climate change. Participants meet people working in a range of fields whose work contributes to the transition towards an environmentally sustainable future.
Following the three intensives, young people participating in this program lead their own project to address climate change and broader environmental issues they identify. Projects in previous years have included: a 'Walk In the Park' environmental scavenger hunt, compiling 'Living Simply' packs for community members, and creating video interviews profiling local people and groups leading environmental action. Further information on previous year's programs can be found below.
Green Futures Now! means:
Including the voice of young people in climate change adaptation and mitigation planning
Connecting young people with local activities that transition to a greener future
Supporting young people to lead action on climate change and sustainability
Applications for the 2023 Green Futures Now! Program have now closed.
Please express your interest below to be a part of Green Futures Now! 2024 program
2022 Green Futures Now!
2022 Green Futures Now! The 2022 program kicked off at Moyjil/ Point Richie with a Welcome to Country and Smoking Ceremony by Brett Clarke. John Sherwood then spoke about the Moyjil conundrum and the global significance of the site (provides evidence of human existence some 80,000 years ago). During the three intensives, the group also visited the Warrnambool Community Gardens, Hycel Deakin and a Sustainable hair salon (Unisex Cuts).
The group heard from Kevin Sparrow around rare plants and climate change, and Stephen Ryan (Glenelg Hopkins Catchment Management) Justin Harzmeyer (Fishcare) and Bruce Campbell (Warrnambool Coastacre Landcare Group) about the importance of conserving and restoring local habitat. The members also heard about sustainable house designs (Fiona Golding), the Barwon South West Resource Recovery Group, along with council's roof top solar project and sustainable travel initiatives.
Following the intensives, the group reflected on what they had learnt and identified areas where more environmental action could be undertaken.
Young leaders from Green Futures Now 2022 identified the following needs:
Educating people on local initiatives and actions occurring to tackle climate change and environments issues.
Empowering community members to take simple everyday actions.
Specific need for further education around how to recycle and manage waste.
The need for undercover bike shelters around town to encourage more cycling.
The group decided to focus on the first two needs, by organising 'A Walk In the Park' scavenger hunt. This family friendly activity was designed to raise awareness around the small everyday actions people can take to help create a greener future. People followed clues to discover five iconic places in Warrnambool. At each discovery station, a QR was scanned which directed people to an animated video showcasing simple messages around five important themes:
Waste and wellbeing
Conserving our oceans
Protecting our habitat
Reducing your footprint
Helping the Planet
At the end of the trail, each person received a free Green Futures Now keep cup and drink. The animations will also be linked to QR codes on concrete bollards at Victoria Park. We encourage you to visit and take a look!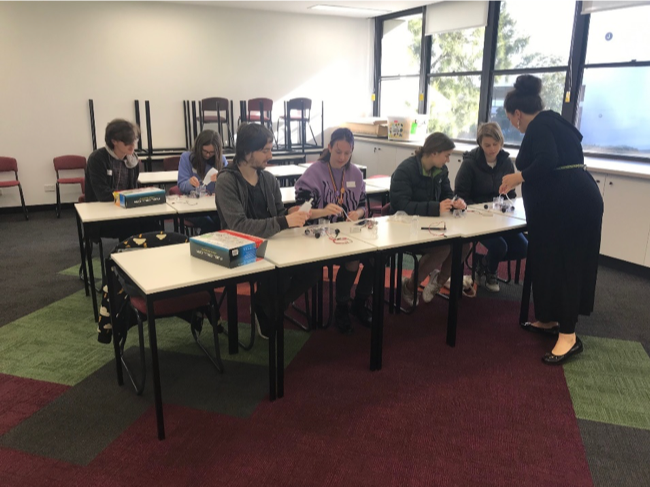 Green Futures Now 2022 members at Hycel Deakin.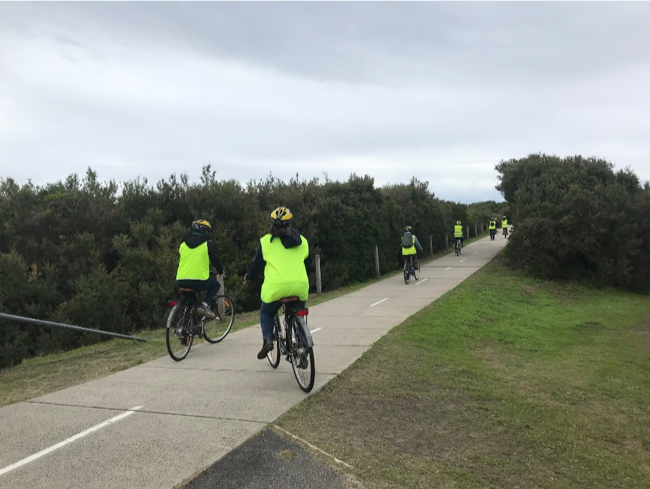 The group cycling to their next destination during one of the intensive workshops.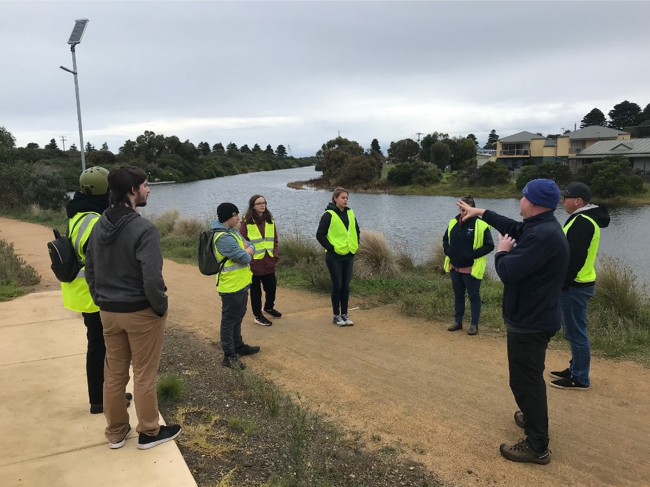 The group hearing from Stephen Ryan at the Glenelg Hopkins Catchment Management Authority.
2021 Green Futures Now! Pilot Program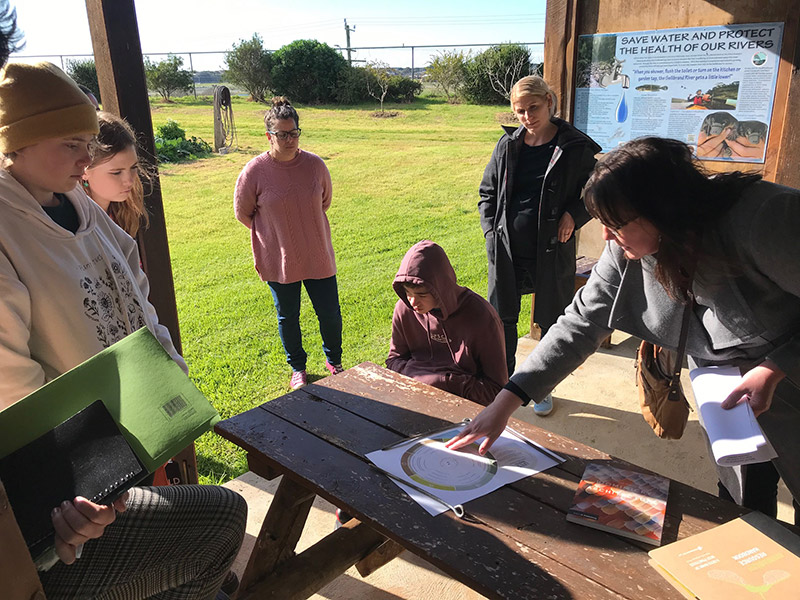 During the 2021 Green Futures Now program, young leaders identified the following needs:
Educating people on what local community is doing to address climate change
Sparking people's interest and engagement in the local community groups involved in sustainability
Educating our youth so they can make climate change less of a risk in the future
Supporting young people to include environmental sustainability in everyday life as a habit
To address these needs, the 2021 GFN members put together "Living Simply" packs containing reusable and sustainable products and information sheets to educate young people about the everyday changes that can have a big impact on our planets health.
They have created video interviews with local people and representatives from groups involved in tackling climate change and making a healthier environment.
Check the interviews out along with additional information and links below.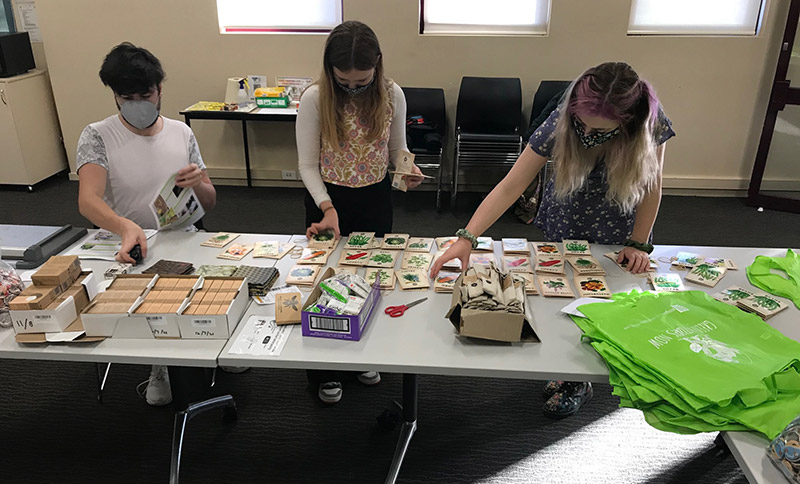 You can find out more about Warrnambool Community Gardens here: https://www.wcg3280.org.au/
You can find out more about Mad for the Merri here: http://www.connectwarrnambool.com.au/directory/com_connect_clubsview.php?showdetail=&id=66
You can find out more about Beach Patrol here: https://www.beachpatrol.com.au/beach-groups/3280/16
You can find out more about Megan Nicolson's practice at Instagram https://www.instagram.com/meg_nicolson/
You can find out more about Sherry Johnstone's practice here: https://www.spiritandsoulcreations.com.au/
Additional Information
Green Warrnambool Strategy:
Green Warrnambool reflects our community aspirations as set out in the Warrnambool 2040 Community Plan. It is a roadmap for creating our environmentally sustainable and resilient future.
Vision: Warrnambool will be the most environmentally sustainable regional city in Australia
https://www.warrnambool.vic.gov.au/environment-and-sustainability
Regional Adaptation Snapshot Barwon South West – Climate Change
This resource provides insight into the climate change effects that are being experienced across the Barwon South West Victoria region, along with the ways that communities are working together and adapting to these challenges.
https://www.climatechange.vic.gov.au/?a=392919
South West Community Energy Project
This partnership between South West Community Energy, Warrnambool Community Gardens, and Warrnambool City Council illustrates a collaborative approach to greening the energy grid.
https://www.warrnambool.vic.gov.au/news/community-energy-project-first-…
Sustainable House Day
Sustainable House Day provides the opportunity to explore some of Australia's most unique and inspiring homes, and learn from the people who designed them, built them, and live in them. This is an annual event which includes a program of local houses.
https://sustainablehouseday.com/
Deakin University
Universities play a crucial role in helping Australia understand, mitigate, and adapt to climate change. Here are a couple of local projects with big impacts:
Drone Monitoring
A world-first initiative from Deakin University, hundreds of citizen scientists have been mobilised and are using high-tech drones to help monitor Victoria's coastline.
https://www.deakin.edu.au/research/impact-stories/drone-users-come-to-c…
Hycel
Deakin's Hycel is one of Australia's first facilities for testing, manufacturing, optimising and training in new hydrogen technologies, Hycel is focused on technologies that use hydrogen rather than processes that produce it. Hycel Technology Hub is a 'living laboratory' that translates lab results into real-world solutions.
https://www.deakin.edu.au/hycel
Moyjil – Point Ritchie
Point Ritchie or in Aboriginal language, Moyjil, is a rocky headland at the mouth of the Hopkins River in Warrnambool, Victoria. The indigenous community and scientists have been working together to help tell the story of Moyjil which is recognised as having great heritage significance.
http://www.moyjil.com.au/point-ritchie-story

Nature Glenelg Trust
Nature Glenelg Trust is a mission-driven, not-for-profit organisation that believes in positive action, and working with the community and our partners to achieve real results on the ground.
https://natureglenelg.org.au/about/
GLENELG HOPKINS CATCHMENT MANAGEMENT AUTHORITY
The Glenelg Hopkins Catchment Management Authority protects and enhances the land, water and biodiversity across 26,910 sq km of Victoria's South West.
https://www.ghcma.vic.gov.au/
Learn about some of the practical work Glenelg Hopkins Catchment Management Authority does to heal ecosystems by watching this video: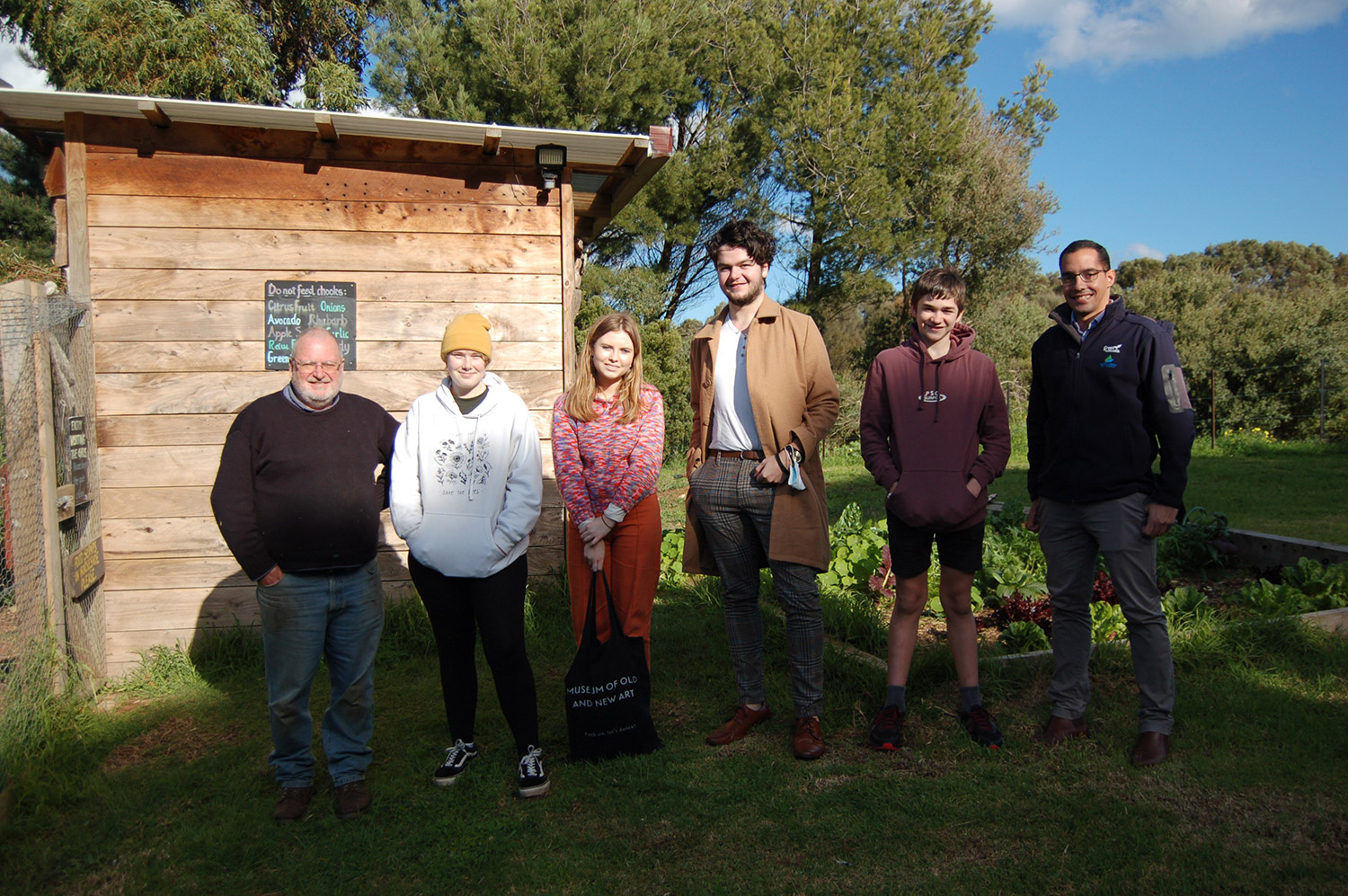 Warrnambool Recycling Services Directory
Learn how you can 'Reduce, Reuse, Repair and Recycle' in Warrnambool by visiting this directory.
Barwon South West Coast Recovery and Resource Group
Our region is filled with wonderful and innovative local businesses committed to creating a brighter, happier and healthier future. Visit this sustainable choices map to find one near you!
Choosing sustainable seafood
Good Fish is a comprehensive guide to sourcing sustainable seafood. It provides the opportunity to support sustainable fish stocks for generations to come by making informed choices when purchasing seafood.
Warrnambool Plant Selector Tool
This online plant selector tool provided by Warrnambool City Council allows you to make an informed plant choice based on the size of your garden, how much gardening you like to do and how much water a plant needs to thrive.
Carbon footprint calculator
Here are a list of websites which allow you to calculate your own carbon footprint. Identify changes you can make to reduce your own carbon footprint.
https://www.carbonfootprint.com/calculator.aspx
https://climateactionaustralia.net.au/information/tools-and-other-resou…
Volunteer Connect
Connect with a local environmental group and volunteer your time. Volunteer Connect is a great way to get started.
Gardens for Wildlife
A free program developed to help Warrnambool residents encourage wildlife into their garden. You can improve the habitat for wildlife in your garden by creating a wildlife friendly garden that provides shelter, food and water. Find out more about the program here.
Sustainable Salons
'Sustainable Salons is a social enterprise that helps its salon members reduce their impact on the planet and invest in local communities.' Visit their website to find a sustainable salon near you.