2023/2024 Christmas and New Year kerbside collection information
There will be an extra recycling collection (yellow lidded bin) over the Christmas and New Year period.
Between December 24 and January 5, put your yellow lidded recycling bin out every week, along with your usual bins.
To accommodate this, trucks will begin operating earlier in the evening, so please make sure all bins are out by 6pm.
There will be no changes to anyone's bin night during this period.
When are bins collected?
All bins in Warrnambool are collected fortnightly. Glass (purple) and Recycling (yellow) one week, Landfill (red) and FOGO (Green) the next.
To find out which Collection zone your property is in and when your bins are collected, type your address below.
Bin placement
Do you live in a court?

To reduce noise and the number of times a truck has to reverse in a court and therefore, the safety of residents and children, please place your bins along the straight section of court.

Place bins on the left hand side of the court as the truck would drive into the court.

Be mindful that you are placing your bin on someone else's nature strip and ensure all rubbish is wrapped carefully to avoid littering when it is windy.
To help our collectors and ensure your bin is emptied each week following these guidelines.
Correct
Bin wheels facing the property.
Bin handle facing away from the road.
Bin close to the edge of the kerb.
Bins to be at least 1 metre apart.
Make sure bin lids close easily.
Bins should be placed out by 8pm.
Incorrect
Don't overfill your bins - make sure lids close.
Bins that are overfilled are difficult to empty and can cause litter to spill and attract unwanted pests.
Extra bags will not be collected.
Collection vehicles cannot pick up heavy bins (over 80kg).
Only put the right material in each bin - some materials can damage collection equipment, injure workers or contaminate the process. Bins cannot be collected if they contain incorrect material.
Make sure your bins are accessible.
Ensure garbage is bagged or wrapped securely - helps reduce spillages and odours.
Don't jam waste into your bins - it makes collection difficult and can lead to waste remaining in your bin after collection.
New, Replacement or Missed Bins
Bin collection inquiries

If you have a question about rubbish or recycling bins please call Wheelie Waste on 1800 999 690.
New recycling or landfill bin
If you have moved into a new home and need to order a recycling, landfill, glass and FOGO bin, contact Council on 5559 4800. All bins provided by Council must stay at the property to which they were issued. Bins remain the property of Council.
Lost or damaged bins
If you have lost your recycling, landfill or glass bin, or your bin is damaged contact Wheelie Waste on 1800 999 690.
If you have lost your FOGO bin, or it is damaged, please contact the Council on 5559 4800.
Missed bins

If you put your bin out on time and in the right place but it was not collected please contact Wheelie Waste on 1800 999 690
Stolen bins
If your recycling, landfill or glass bin has been stolen contact
Wheelie Waste on 1800 999 690.
Upsizing or downsizing
If you are no longer able to handle the 240-litre recycling or FOGO bin, you can ask for a smaller bin.
Contact the Wheelie Waste on 1800 999 690.
About the four-bin system
The main aim of the four-bin system is to minimise the amount of waste being sent to landfill. Sending rubbish to landfill is the least preferred waste treatment outcome. It is also very expensive because the Victorian Government charges a landfill levy which has risen significantly in recent years. Recycling or re-using household waste brings about better environmental outcomes and is more cost-effective.
Landfill Bin - Red
So what goes in my landfill bin?
Nappies
Sanitary and incontinence products
Polystyrene including meat trays
Black absorbent inserts from meat trays
Chewing gum
String and rope
Disposable coffee cups
Plastic straws
Milkshake, soft drink and ice cream cups
Tetrapaks (currently no recycling option for these in Australia but the industry & Tetrapak are working on it)
Toothpaste tubes & brushes
Sushi fish, sauce and flavour sachets
Soft plastics
Food wrappers including lolly and chip wrappers
Plastic bags
All food waste and food scraps go into your FOGO bin for composting.
Larger landfill bin for medical/sanitary waste
A larger 240l landfill bin is available to residents who require a larger bin for disposal of medical waste.
To discuss obtaining a larger bin, please call Council on 5559 4800.
FOGO Bin - Green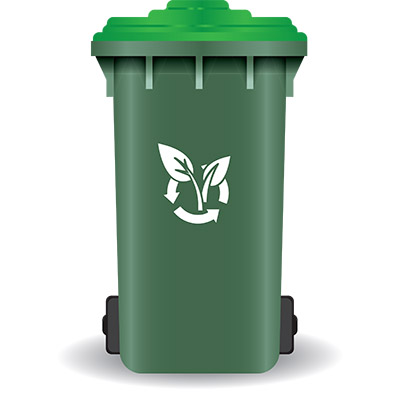 Warrnambool households are provided with a FOGO (food organics, garden organics) bin. The maximum weight permitted in the FOGO bin is 80kg.
the items below belong in the FOGO Bin
Fruit scraps including citrus
Vegetable peelings and scraps
Eggshells, bakery goods and dairy
Rice and Pasta
Prunings, flowers and leaves
Raw and cooked meat (including bones)
Lawn clippings and weeds
Human and animal hair
small sticks, tooth picks, skewers and uncoated chopsticks
For a detailed list check the A-Z FOGO list
When will I get my annual supply of FOGO liners?

A roll of 150 FOGO liners will be delivered to you once a year.

Additional FOGO bags

A year's worth of liners has been provided to you based on using three a week.
If you find you are using more, you can purchase extras from

Supermarkets
Bunnings Warehouse
 

Keep an eye out for the Seedling logo, this will ensure that the liners you are buying are certified compostable.

Liners can also be made out of newspaper.
Benefits of FOGO:
By keeping FOGO out of landfill and composting it, valuable resources are being recycled, helping improve soils and capture carbon on local farms.
Composting also generates significantly less methane (a potent greenhouse gas) than disposing of FOGO to landfill.
Composting FOGO can create cost savings for Council and the community, because disposal to landfill of the same material costs more than composting it.
What happens to your FOGO?
Your FOGO is delivered to Camperdown Compost Company which is an EPA licensed site producing compost that meets Australian Standard AS4454.
Over 3 months, the material is mulched, mixed with other organic material and moisture is added. Long piles (windrows) are formed where microbial activity starts breaking down the material.
The temperature is kept at 55-65 degrees Celsius, pasteurising the compost and destroying weed seeds and pathogens. The compost is turned, keeping it active. The end product is screened depending on end use.
The end product is sold mainly to local farmers for mulch, landscape soil, top dressing and broadacre fertiliser.
Already composting or worm farming?
FOGO complements your home compost by dealing with those hard to compost items like oyster and egg shells, avocado and mango pips. It also accepts items that you don't really want to put in your compost like meat, bones, dairy, citrus and onions.
Glass Bin - Purple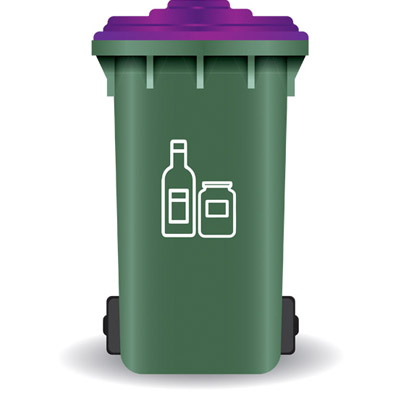 This bin is used to recycle glass items, like jars, bottles, and broken glassware. Keeping glass separate improves the quality of Warrnambool's other recyclable materials, so they can be processed into new items, more easily and efficiently.
Collected glass will be taken to a local transfer station, where it is checked for contaminants, crushed, and repurposed for use in local construction projects around the City of Warrnambool. So far, the equivalent of 300,000 glass bottles have been used in local road work projects, including Walsh Rd, Dickson St, Botanic Rd and Younger St.
Excess glass can be disposed of at Cleanaway (355 Koroit St, Warrnambool VIC 3280) , free of charge.
The state is making changes too, with glass separation mandated for all Councils and the introduction of a container deposit scheme by 2023.
Visit - www.vic.gov.au/transforming-recycling-victoria for more details on the state's vision and direction for recycling.
Recycling Bin - Yellow

All Warrnambool households are provided with a recycling bin.
The yellow-lidded bins accept recyclable materials including paper and cardboard, metal and aluminium. cans and plastic containers which contain recycling codes.
Please note: soft plastics, such as plastic bags, don't go in your recycling bin.
Items for recycling include:
Paper - all types including magazines, pamphlets, note pads, envelopes and office paper.
Cardboard - archive boxes, food boxes and packing boxes.
Plastic - keep lids and labels on plastic bottles, yoghurt containers and fruit punnets are recyclable.
Steel - food containers and aerosol cans.
Aluminium - foil, drink cans and aerosol cans. Scrunch foil into a loose ball.
Do NOT put the following in your recycling bin:
Soft plastics - bags, wrappers, cling film.
Foam and polystyrene.
Electrical and electronic items.
Food scraps.
Tissues and paper towels.
Nappies.
Gas cylinders.
Clothing.
Batteries.
Glass.
Garden waste.
Collection zone calendars
Warrnambool has 10 collection zones (named after indigenous animals), download a printable collection calendar for each zone below. If you aren't sure which zone you are in, enter your address at the top of this web page.