Anyone aged 12-25 with a desire to make Warrnambool a better place is encouraged to join the Warrnambool Youth Circle.
The Circle, which is the successor of the Warrnambool Youth Council, will meet approximately once every two months to workshop a key priority area identified by the group, such as mental health or the environment.
The first meeting for 2023 will be held on Monday, February 13 from 4pm to 6pm.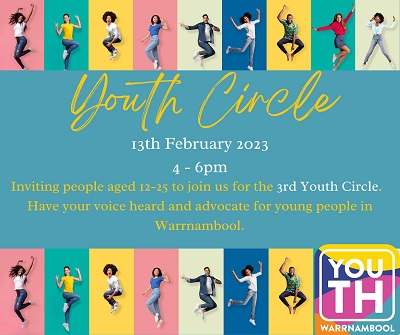 Warrnambool City Council Youth Engagement Officer Lauren Brown said that the evolution of the program was driven by the young people involved.
"The transition from the Youth Council to the Youth Circle reflects the changing needs of young people," she said.
"Young people have many competing commitments vying for their time but they care deeply about the world around them. The Youth Circle enables young people to have voice on the issues that matter to them while accommodating their busy lives.
"With the Youth Circle, the aim is to bring everyone together, and harness the power that comes from focussing on a single issue at a time.
"Another advantage of this model is that new members can join at any time. Every meeting will be about a new topic, so nobody will feel like they are coming in halfway through a project.
"We are all equal in a circle, and the Warrnambool Youth Circle exists to create a space to celebrate and champion the diverse voices, experiences, and aspirations of Warrnambool's young people."