As a school crossing supervisor Colin Bristol ensures scores of children make it safely across Raglan Parade every school day.
It's a job he has performed for more than 13 years and which he finds meaningful and satisfying.
The manner in which Colin goes about his work is appreciated by parents and schools and resulted in a "best crossing supervisor" nomination at the biennial awards run by School Crossings Victoria.
Colin was subsequently judged the best supervisor in Region 6 (south-west Victoria) from a large field of nominations, which are made by either schools or members of the public. 
The award recognised his "professional demeanour, welcoming, caring and supportive encouragement to all users of the school crossing".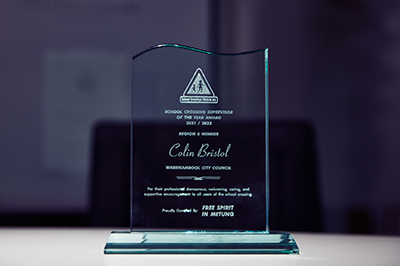 In his 30s Colin was in a vehicle accident that meant he could no longer work full-time.
He still wanted to work and crossing supervision was a good fit.
He is stationed where Raglan Parade intersects with Bell Street and Derby Parade.
"It's a big responsibility, especially with little primary kids coming across," Colin said.
"You are watching them all the time.
"You get to know a lot of people, adults as well as young kids. I have seen kids start from primary school and go right through to year 12 and it's fantastic," Colin said.
"Kids come up and talk to me on the street, they still remember you.
"The people in cars you get to know too and most motorists are happy to stop – 99 per cent are very good, it's just a small number that don't like stopping.
Colin said inclement weather "comes with the job" but "you don't mind getting wet for the kids, you're only in the elements for a short time".
And it's a job he recommends.
"As long as you are a people person I would recommend it to anyone. You have got to love kids and get along with their parents," he said.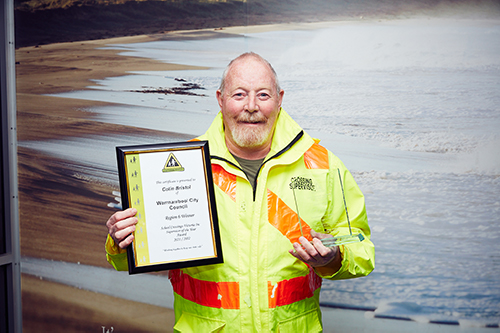 Two other Warrnambool crossing supervisors were nominated for the awards: Helen Ferrier and Trevor Dowie.
Council Chief Executive Officer Peter Schneider congratulated the three nominees.
"Colin and our team of crossing supervisors do a superb job and it's one that comes with enormous responsibility," Mr Schneider said.
"Our supervisors give parents and carers peace of mind that their children will get to school and back home without incident.
"Our crossing supervisors would be well known to many parents and it's really comforting to have a familiar face and to know that our supervisors are totally dedicated to their roles.
"They embody a number of our core values including wellbeing, respect and accountability.
"Congratulations to Colin, Helen, Trevor and the supervisor team."
 Warrnambool City Council supervises 32 school crossings and employs 42 supervisors.