Council's Economic Development Team initiated Win in Winter campaign in June 2022 to raise awareness about slow spending trend that impacts local businesses negatively and provide relevant support to them throughout winter.
Warrnambool experiences more seasonal fluctuation in spending than State average. The winter months are often the quietest time of year with approximately 20% drop in spending.
Therefore, Council's Economic Development Team initiated Win in Winter campaign in June 2022 to support the local businesses during the quieter season via the voucher initiative to encourage spending and recognising and promoting local businesses by asking the community to shout about the businesses they love.
The 2022 Win in Winter summary:
Audience
Locally owned and operated businesses Warrnambool wide across all industries plus the greater Warrnambool community.
Initiative Summary
We encouraged the community to share photos of their favourite locally owned and operated businesses and tell us why they loved supporting them.
The campaign ran for 10 weeks. Each week a winner was selected at random from the entries and won a voucher pack of 10 $50 vouchers to be redeemed at 10 locally owned and operated businesses of their choice.
Entries per week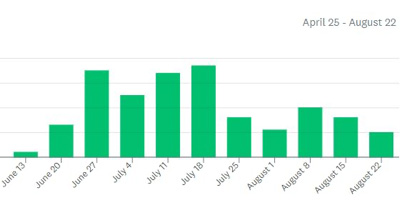 A gradual increase in entries as the initiative gained understanding and momentum.
June 27- July 18 averaged 35 entries per week and the most consistent traction.
A total of 217 entries across the ten weeks.
Social Media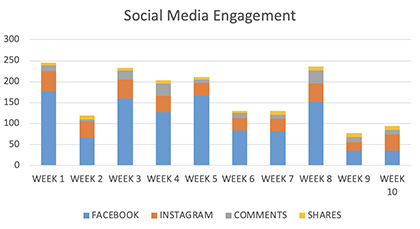 The popularity of social media platforms are continually evolving and changing.
The above graph indicates the consistent positive engagement received by the community and businesses alike. Across both Facebook and Instagram, we averaged a minimum of 70 engagements per week for the duration of the campaign.
Businesses reshared content on their own platforms. The community voluntarily engaged with each if not all winners and reshared the content on their own platforms.
Below shows two Instagram posts received in excess of 15,000 and 21,000 impressions respectively.
BUSINESS ENGAGEMENT & MEDIA
The 217 individual nominations received over the ten weeks were emailed to the corresponding businesses. The entries received touched on Businesses level of service, products, staff, consistency, reputation and knowledge.
Businesses indicated by receiving these nominations it assisted in morale boosting within their teams, during difficult months of staff shortages and unfavourable weather conditions. It also gave them something to re-share on their own social media pages.
Businesses received the investment immediately by the vouchers being purchased there and then and were not required to do anything themselves which they appreciated.
Each winner was presented with their winning vouchers at the nominated business. This created further free marketing and promotion for the Business via our social media post as well as engagement from The Standard Newspaper and ACE Radio on two consecutive occasions.
Vouchers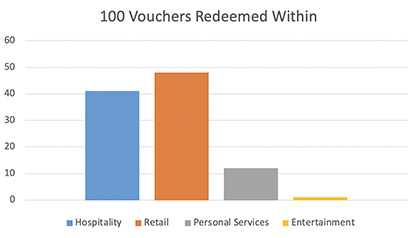 Whilst the vouchers were predominately redeemed within Hospitality and Retail the businesses within these two categories were from a broad area of Warrnambool and within categories not necessarily reached before.
Winners Survey

Our aim was met in that, the winners indicated the vouchers encouraged local spending that may not have taken place otherwise.
The vouchers also resulted in additional money being invested back into the local businesses.
All winners were excellent ambassadors for the initiative, sharing their win with their own community, participating in media opportunities and re sharing the campaign on their own social media platforms.