Brierly Reserve Stage 1 Eastern Oval Redevelopment

Council in partnership with the State Government has secured funding under the 2022/23 Local Sports Infrastructure Fund to redevelop the Eastern oval at Brierly Reserve.
Project Detail
Stage 1. Eastern Oval Redevelopment includes;
Sports ground playing surface upgrade including drainage to achieve a year-round accessible oval.
Surface realignment to support the development of two natural turf soccer pitches (100m x 65m) situated either side of synthetic cricket wicket.
Installation of sports ground lighting to achieve minimum 200lux, to meet Australian Standard AS 2560.1 & AS 2560.2.3. Lighting compliant for Football Victoria's semi-professional competition and professional training requirements.
Sports ground sub surface irrigation and connection to the existing bore.
Relocate the synthetic cricket wicket between the soccer pitches to meet run off compliance with Football Victoria.
The existing cricket practice nets, playground and public barbeque and amenities are to be retained in their current location, enabling the cricket club to continue operating and further developing participation outcomes for everyone.
Project Outcomes
This project
enable and activate participation in soccer and cricket, especially for women and girls.
increase overall participation in South West Victoria, especially for women and girls
increase the number of high quality playing fields in the region
provide safe and suitable facilities for all participants, both male and female
meet the current and future demands of the South West Victorian Football Association and the local football community
provide opportunities to host significant high level events, such as CLFA country championship tournaments and National Premier League fixtures.
Project Budget
Total $2Million
State Government $1M
Council $1M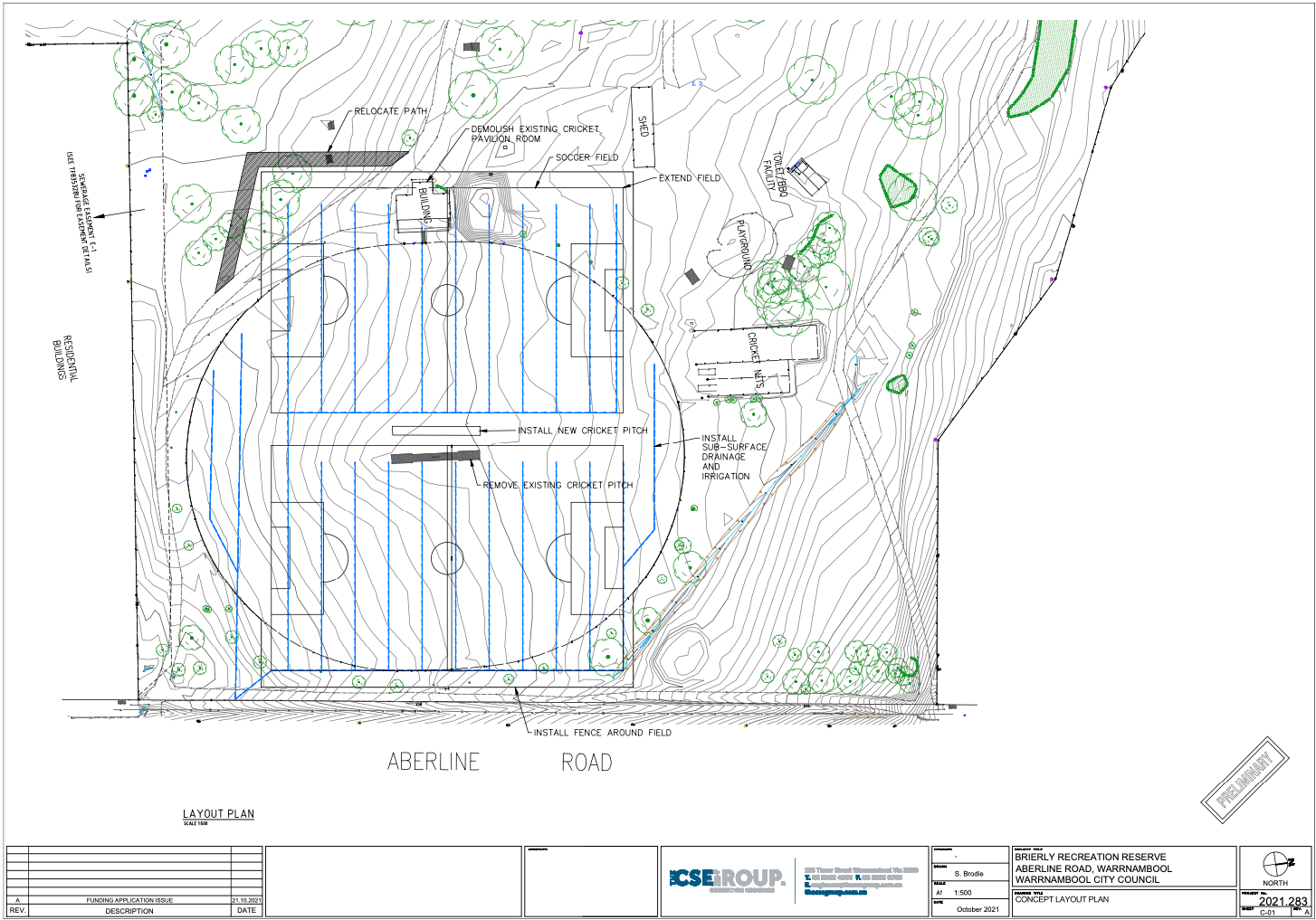 Jetty Flat Reserve Pavilion Redevelopment Project
Council in partnership with the State Government, Cricket Victoria, Russell's Creek Cricket Club and the Warrnambool BMX Club has secured funding under the 2021 SRV Local Sports Infrastructure Fund Female Friendly Facilities stream to redevelop the pavilion at Jetty Flat Reserve.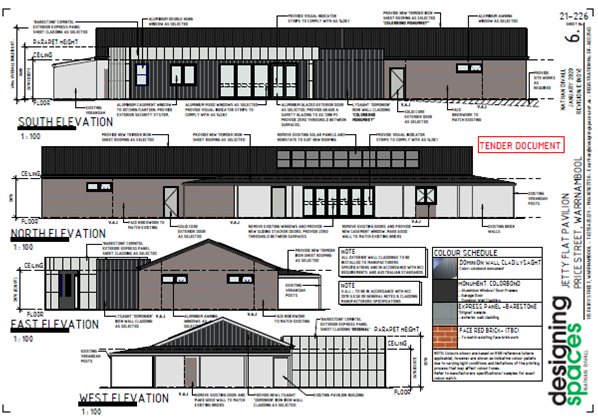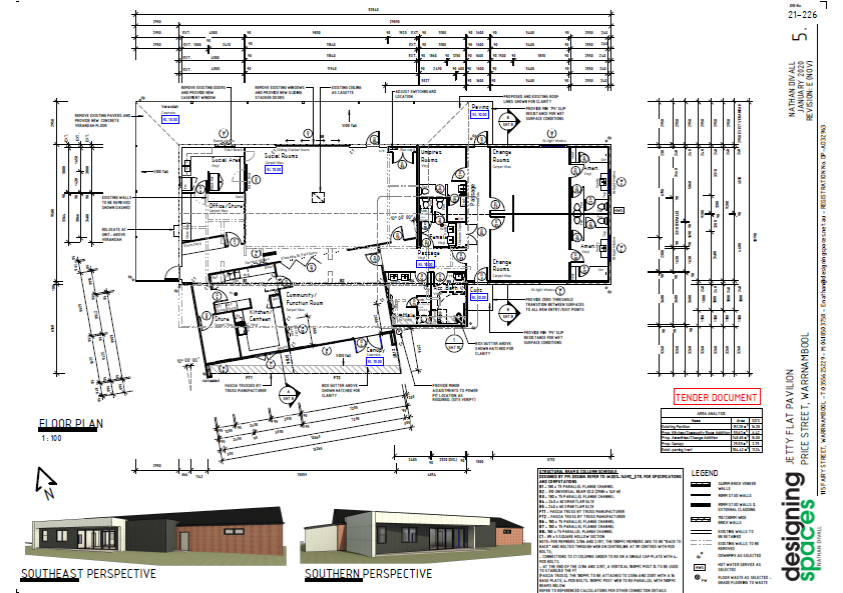 Project Detail
Construction of two new change areas and amenities that are not gender specific, provide clear separation between club members and the general public.
Redevelopment and upgrade to existing building to provide;
separate accessible amenities,
designated umpire amenities including separate shower, toilet and changing space.
shared community/social spaces (north and south facing)
canteen/kitchen upgrade including survey window (south facing)
office/storage spaces
Installation of speed humps and resurfacing of the road outside the pavilion.
Installation of storage shed
Project Outcomes
Improved equity and flexibility of use to ensure that the project provides provision for privacy, security and safety for females as well as being equally available and accessible for all users.
The design is to meet the local level Community Cricket Facilities guidelines and the benefits include;
Provision of new facilities that support the facility being brought up to Local Level Standard.
Provision of facilities to provide improved and reliable essential infrastructure that increases the capacity to expand and diversify the use of the area into the future.
Supports new participation opportunities for girls and women with female friendly facilities.
Responds to strategic planning recommendations from Council's Plan, Health & Wellbeing Plan, W2040, Great South Coast Regional AFL, Cricket & Netball Strategy, Active Warrnambool, Open Space Strategy and Sport Demand Analysis.
Project Budget
Total $980,000
State Government $500,000
Council $395,000
User Groups $55,000
Cricket Victoria $30,000
Dennington Reserve Netball Lighting Upgrade
Council in partnership with the State Government and Dennington Football Netball Club has secured funding under the 2021 Country Football Netball Program to upgrade the netball court lighting.
Project Detail
The project involves the installation of two new 12m lighting towers with LED lights to the existing netball court. The lighting will achieve an average of 200lux and provide suitable conditions for regional/club/local competition. The new outdoor lighting system has been professionally designed to ensure its compliance to standards - AS2560.2.4 including illuminance and uniformity. The configuration of the lighting will be undertaken in set groups (banks) which will also enable provision of lower levels to suit training if required. This is especially important to the Club to save energy, reduce running costs and increase the life cycle of the lamps.
Project Outcomes
The installation of competition standard netball lighting will significantly increase participation by;
Allowing all club training to occur at the home venue and increasing the capacity for additional training activities if required, especially around finals.
Improving the connectedness for all female club members, which is extremely important in creating a sense of inclusion and improving self-esteem.
Provision of new facilities to benefit, attract and retain female participants and volunteers.
Provision of new facilities that support the venue being brought up to appropriate local level standard to reduce risks to player safety along with the risk of OHS issues for volunteers.
Installation of LED lighting to reduce the electricity cost to the club and improving sustainability through a reduction in electricity use.
Responding to strategic planning recommendations from Council's H&WB plan, W2040, the Great South Coast Regional AFL, Cricket and Netball Strategy, Active Warrnambool Strategy and Open Space Strategy.
Provision of appropriate facilities to cater for population growth in Dennington for community sport.
Project Budget
Total $104,000
State Government $68,000
Council $31,000
User Group $5,000