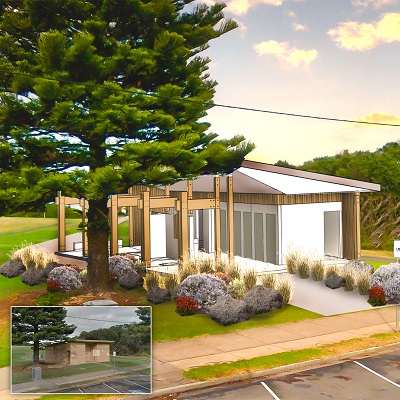 Construction is under way on a new public amenities building at the entrance to McGennan Car Park.
The new building, identified as a priority in the Lake Pertobe Master Plan, will feature improved accessibility, junior toilets, baby change tables, bench seats, external warm showers.
An existing amenities block has been demolished to make way for the new facility. 
Project details
Why rebuild?
The previous building had reached the end of its useful life. Consultation for the Lake Pertobe Master Plan revealed a need for a more functional and accessible facility.
What is the cost?
$814,000.
Who is funding the project?
Funding has come from the Council and the Australian Government's Building Better Regions Fund.
What happened to the exercise equipment and will it be re installed anywhere else?
The exercise equipment was at the end of its useful life (rusted below ground level) and will not be installed elsewhere. The Lake Pertobe Master Plan identifies a need for exercise equipment, this will be a future project.
What does the new building provide?
two accessible toilets including junior toilets, baby change tables, bench seats and vanity;
two ambulant toilets with bench seats and hooks
three other cubicles with bench seats and hooks
a communal hand wash basin area
four warm water external Showers, two of which are accessible  
What are the buildings main features?
Reclaimed timber beams from the Edwards and Wollaston Road bridges will feature on the eastern side of the building.
The main structure will be precast concrete with lightly exposed aggregate. To soften the concrete structure a rough-sawn timber screen will be added to enhance the building's appearance, provide privacy and shelter.
Is there additional landscaping?
Some earthworks and reshaping of the hill will be undertaken before construction of an improved walking path from Pertobe Rd to the Promenade. The new path will comply with the Disability Discrimination Act (DDA).
Areas  around the building will be a mix of grass and low maintenance garden beds featuring native plants.
When will it be finished?
Mid-October.
Who is building and managing the project?
Local firm Bolden Constructions will build the new facility. Council staff will manage the project.
Will access to McGennan Car Park be impacted during construction?
Access will be closed for short periods of time to undertake tasks such as crane lifts, concrete pours or deliveries.