Warrnambool City Council's COVID-19 Business Support Plan
Warrnambool City Councils COVID-19 Business Support Program (COVID-19 BSP) is designed to engage with local businesses and lessen the financial burden impacting them where possible, whilst planning for a rebuild of the important business community as restrictions are lifted.
Click Here to download the Warrnambool City Council Business Support Plan
Return to Stage 3 lockdown
As of 6th August regional Victoria is under Stage 3 -Stay at home restrictions. For up to date information about current restrictions and business closures, please check:
https://www.dhhs.vic.gov.au/victorias-restriction-levels-covid-19
If your business is not affected by the shut down, you can do your bit to reduce the spread of COVID-19. Please follow the DHHS guidelines in the link below to keep yourself, your employees and your customers safe:
https://www.dhhs.vic.gov.au/coronavirus-covid-19-transmission-reduction-...
As well as posing significant health risks, COVID-19 (coronavirus) has and will continue to have a major impact on businesses and the economy.
We understand the deep concern businesses have regarding employee retention, revenue, health and safety matters as well as the ability to plan for further disruptions to trade.
This page outlines some of the resources and support services available to help local businesses and will be updated regularly.
If you'd prefer to speak with someone or if you have any questions, please call 5559 4800 and ask to be transferred to the Business Support Unit.
Sign up here for the WCC Business Support Newsletter
COVIDSafe plan
Do you have your COVID Safe plan?
In regional Victoria, a COVIDSafe Plan is mandatory for high-risk industries and advised for all other permitted work. Creating your COVIDSafe Plan is not complicated, but it will protect your staff, customers, and visitors. It also supports you in preparing for a suspected or confirmed case of coronavirus (COVID-19) in your workplace.
For more information please visit the below link, which is updated regularly to provide you with the most up to date information.
https://www.business.vic.gov.au/disputes-disasters-and-succession-planni...
Marketing materials for Warrnambool businesses
Click the image below to download a series of Get Around Warrnambool images and messages that Warrnambool businesses are encouraged to use.
Please feel free to download them and use them on your social media platforms or, where appropriate, display in or at your business.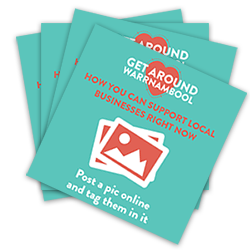 Social Media Tiles
Right click on an image below to download a tile sized for social media (1200px by 1200px) or click here to download all of the tiles in pdf format
A4 Poster Printouts
We have also created A4 printable versions of these messages, click here to download all of these messages in pdf format ready to print out and use in your Business.